Each year, Scots and their descendants around the world celebrate their cultural identity: on November 30, they honour Saint Andrew, Patron Saint of Scotland; on January 25, they celebrate Scottish literature on the birthday of poetic genius, Robbie Burns; and on April 6, they recognize the contribution of Scots by celebrating Tartan Day.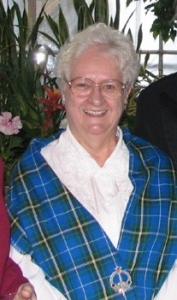 First adopted in Nova Scotia in 1987, as proposed by Jean Watson (photo, left), Tartan Day spread to Canada's other provinces and territories by the early 1990s, to the United States by Act of Congress in 1998, and then to Australia and New Zealand.
When Tartan Day was established in New Brunswick – to be first celebrated in 1993 – then-premier Frank McKenna proclaimed that "Scottish immigrants and their descendants have played, and will continue to play, a major role in the development of the Canadian and New Brunswick identity."
After many years of lobbying by Scottish associations across Canada, in 2010 the Government of Canada proclaimed that Tartan Day be celebrated annually across Canada. In the 2010 proclamation, Hon. James Moore, Minister of Canadian Heritage expressed similar sentiments: "On this day, all Canadians will have the opportunity to celebrate and learn about Scottish culture, traditions, and heritage, as well as their contribution to Canadian society… I encourage people all across the country to celebrate on April 6 the contributions of millions of Canadians of Scottish ancestry in building our country."
Why April 6 for Tartan Day?
On 6 April 1320 the Scottish nobility, following the Second War of Scottish Independence, issued the Declaration of Arbroath (photo, right). The Declaration asserted the historical independence of Scotland and the rights of the Scottish nobles to choose their own monarch – no matter how much the King of England claimed otherwise.
This document was sent as a letter to Pope John XXII who, in turn, wrote to English King, Edward II, urging him to make peace. It was not until 1328 that Scotland's independence was acknowledged.
It is, perhaps, the most important document in Scottish political history, effectively the Scottish "declaration of independence."
https://www.nbscots.com/uploads/declaration-of-arbroath-high-res.jpg
1081
1024
NBSCA
https://www.nbscots.com/uploads/2018/08/logo_204x240.png
NBSCA
2020-04-05 23:20:45
2020-04-05 23:34:17
Tartan Day, April 6